Have you ever come across the issue of not knowing what is taking up all of your hard drive space? Or maybe you are just curious as to what is taking up the space Apple calls "Other," which can seemingly be the greatest occupier of your hard drive's storage. Storage capacity is an important aspect of any computer and knowing what takes up that capacity can help you manage your data and get a nice overview of the entire contents of your computer.
What's Taking Up Space on My Mac?
To see what is taking up your hard drive space, click the Apple logo in the upper-left hand corner of your desktop. Then, click "About This Mac." A window will appear in the center of your desktop displaying basic info about your computer. Click the "More Info..." button and then click the "Storage" tab at the top of the window.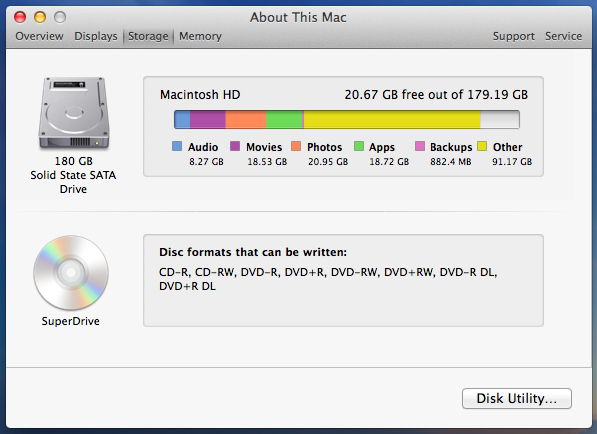 Apple has conveniently labeled all of the categories such as "Audio" (all audio files), "Movies" (all video files), "Pictures" and so on in separate classifications, but what is taking up so much space in that "Other" category? This can be a huge issue for computers that do not boast large internal hard drives. That being said, the "Other" category includes quite a bit of different types of files that do not fall into the other categories such as music or pictures, which can often take up the largest amount of space on your computer. The files in the "Other" category can be very important application files, operating system files or log files (which are important for the computer to function correctly). They can even be iPhone or iPad backups if you backup your phone through iTunes. Files in Trash are also included in the "Other" category.
Disc Inventory X
A great storage management program I found is called Disk Inventory X. Disk Inventory X breaks down all of the files on your computer in order to show you exactly what files are taking up space. This program will show you a layout of every file that is on your computer. The layout is color-coded based on file type. This helps prevent you from deleting important system files by accident.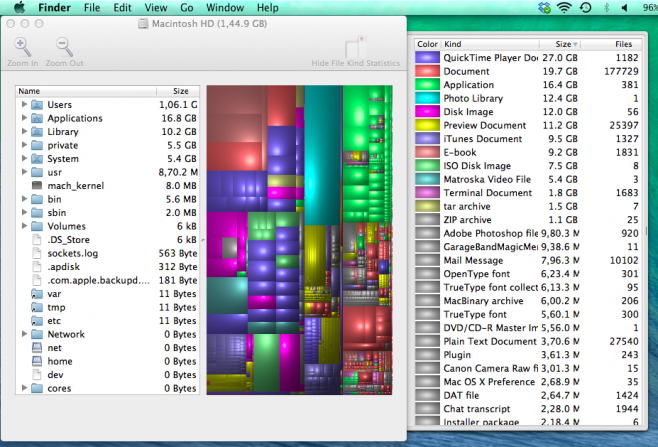 Disc Inventory X breaks down the contents of your hard drive in an easily accessible, color-coded fashion based on file type. By clicking on the different blocks of color, Disc Inventory X shows you exactly where these files are located in your Finder. That way, you can easily free up some space on your computer or move files to an external hard drive
You can download Disc Inventory X for free here.
---
What about you? What programs, systems or procedures do you use to manage storage on your Mac? Let us know in the comments below!