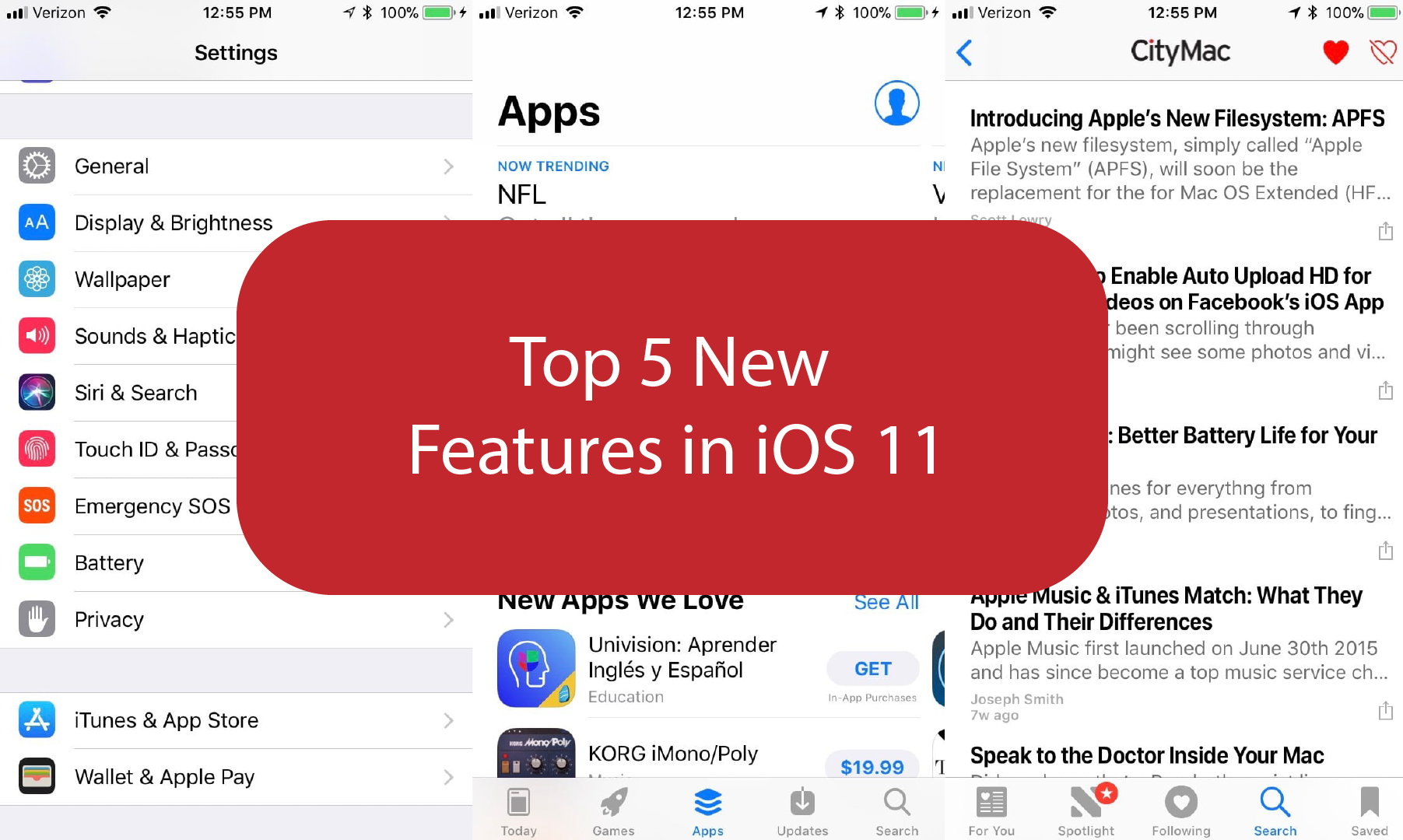 iOS 11 is Apple's latest update to the iPhone, iPad, and iPod touch. iOS 11 is more refined, faster, and offers many new features that allows users to be more productive. In this blog, we will be going over the top 5 new features in iOS 11.
Updated Control Center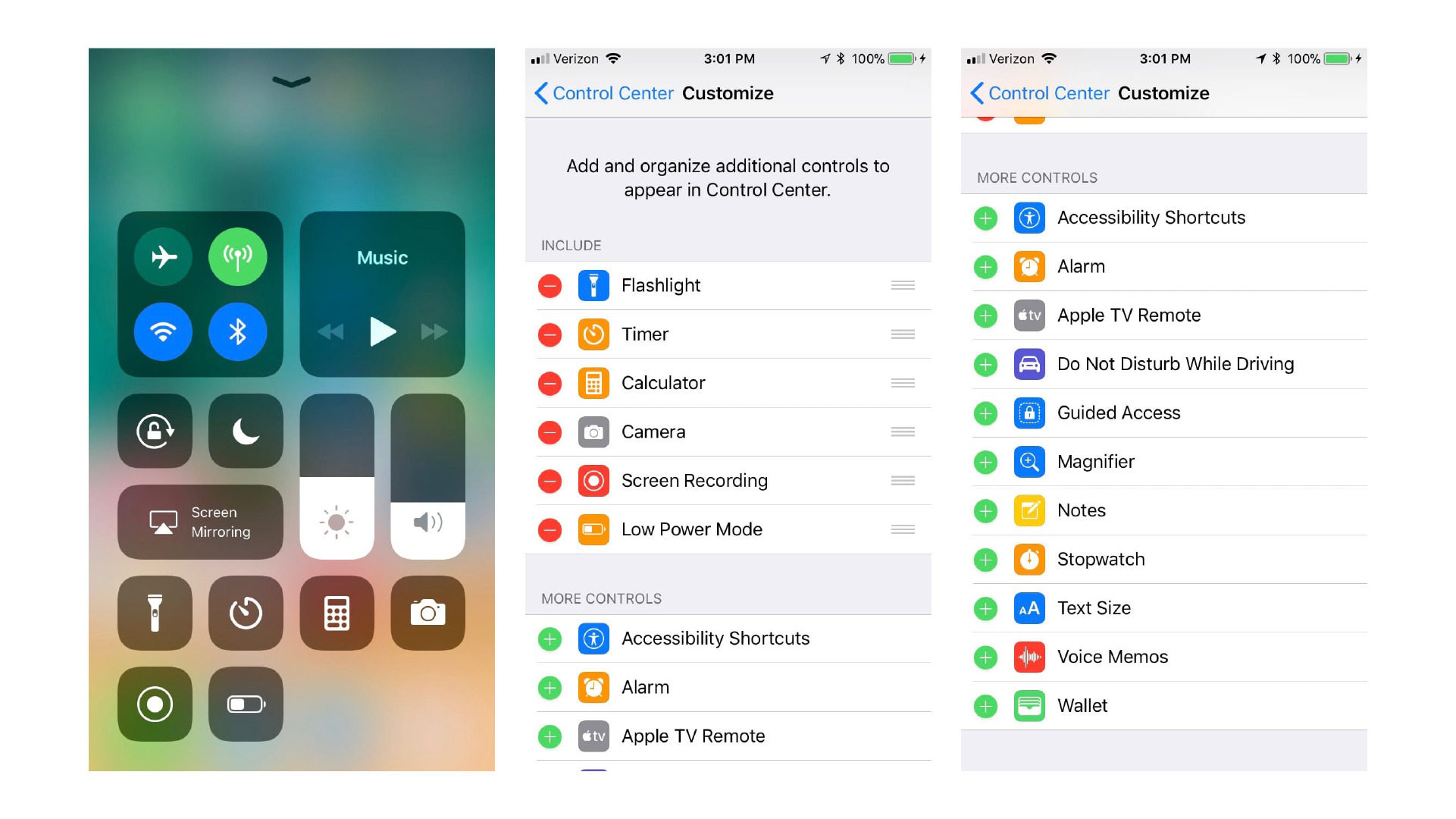 Control Center has gone back to a single page, has a new look, and is now customizable. This means, each user has the control on which options are available in their Control Center. To customize, simply go into the Settings app, choose Control Center, tap Customize Controls, and add or remove Control Center features.
Easy Access to Screenshots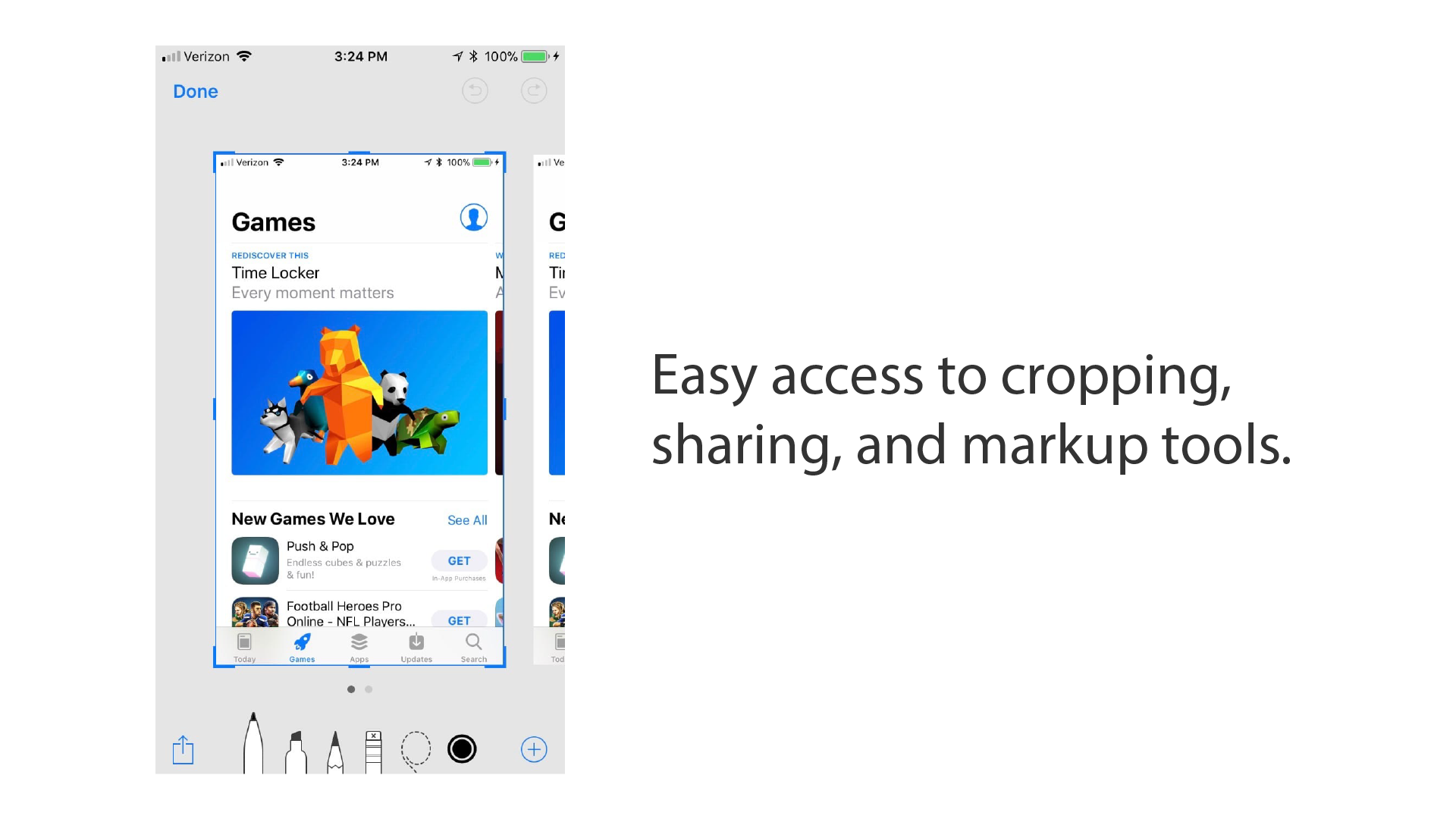 iOS 11 brings the ability to take a screenshot, have it appear in the bottom left hand corner of the screen to easily edit, markup, or delete without having to change apps. To use this, simply take a screenshot and tap it once it appears in the bottom left hand corner of the screen. From here, have the ability to share, delete, crop, or use the markup features.
New App Store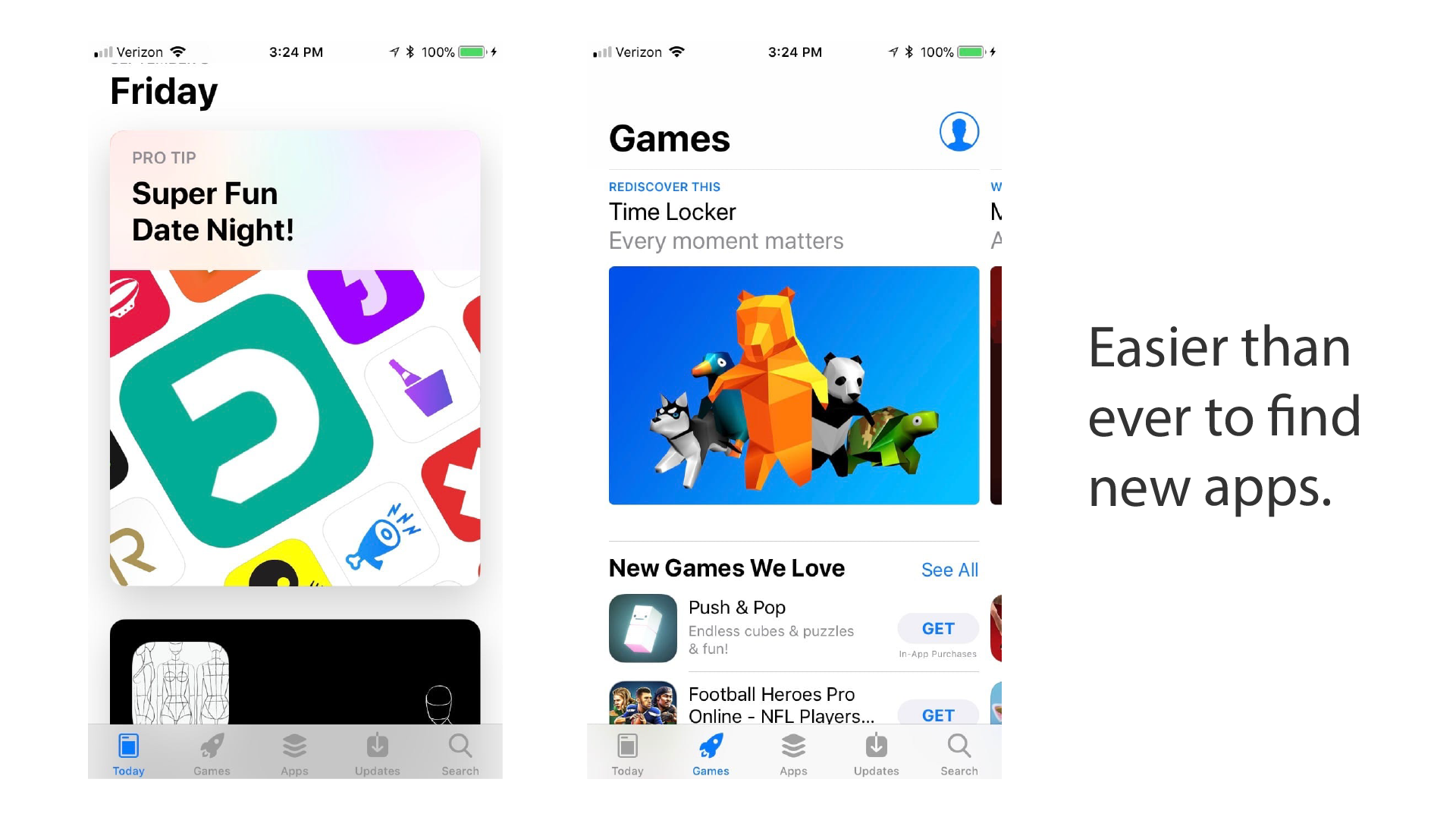 The App Store has been completely redesigned for iOS 11. The new design allows easier access to find new apps with the 'Today' tab, which Apple updates daily to feature new apps that might otherwise be hard to find at first. There is also a new tab on the bottom of the App Store for Games. Since games are one of the most popular categories, if not the most popular category on the App Store, it makes finding new games easy.
Storage Optimization & Recommendations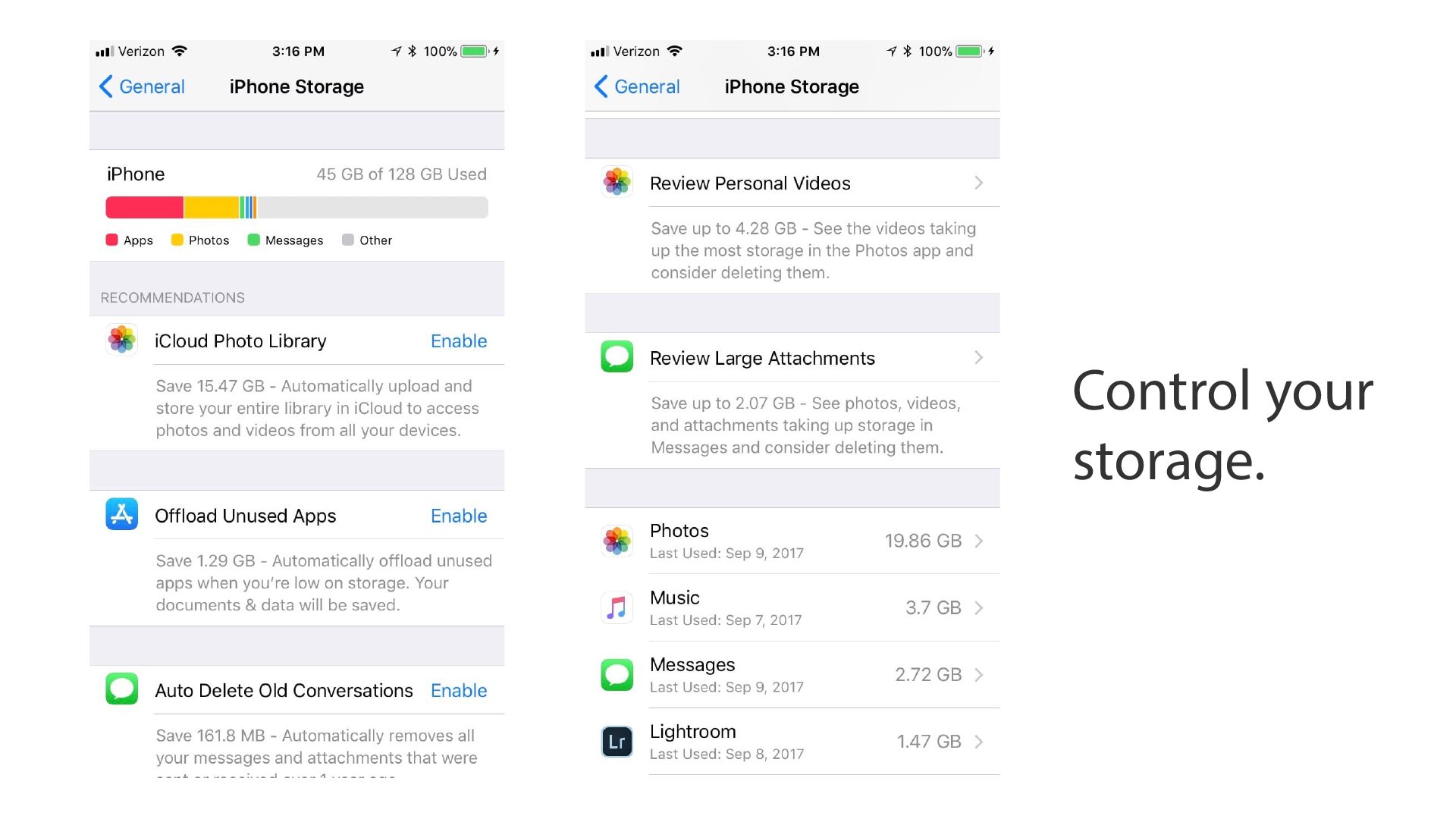 Running out of storage when taking a photo or video is never fun. Now in iOS 11, users will be able to easily manage their storage and see which apps are using the most storage, and be ready when they need to take a photo or video.
To access, simply open the Settings app, go to General, and select iPhone Storage. Here it will give you a break down on what is taking up the most space on your phone (i.e., Apps, Photos, Messages, Other.) iOS 11 will also give recommendations which can be enabled to free up storage on the device.
New Screen Recording
Unlike in macOS, screen recording has not been available in iOS until iOS 11. After enabling the screen recording feature in Control Center, simply tap on the screen recording button to start recording the device's screen. Once finished, tap the bar on the top of the screen and follow the prompt to end the screen recording. Once the recording has finished, it will be saved to the Photos app.
iOS 11 will be compatible on the iPhone 5s and newer, iPad mini 2 and newer, iPad Air, iPad Air 2, iPad Pro models, and the iPod touch 6th generation. To update to iOS 11, go to Settings, tap on General, then Software Update.
---
What is your favorite new feature about iOS 11? Let us know in the comments below! You can also connect with us on Facebook at facebook.com/WelcomeToCityMac and on Twitter @CityMacTweets.