Learning Center at CityMac | Teacher Spotlight
Carl DiLorenzo
Myrtle Beach, SC & Wilmington, NC
Carl is a retired IBM Senior Manager of 33 years. In 1992 Mr. Di Lorenzo formed his own consulting firm.
After he retired in 2014, Carl designed a program to explain, in simple terms, how to use Apple's iPhone and iPads. To date he has trained more than 400 students. Although not designed for a specific age group his classes have attracted many between the ages of 45 and 90.
Book a class or workshop with Carl in Myrtle Beach>
Book a class or workshop with Carl in Wilmington>
---
Chris Speckhardt
Bellingham, WA
Chris Speckhardt is a senior at Western Washington University majoring in Math and Computer Science. In her spare time she is an avid photographer and enjoys skateboarding to work.
She's happy to share her knowledge about Apple products in a meaningful and personalized way according to what best suits your needs.
Book a class or workshop with Chris >
---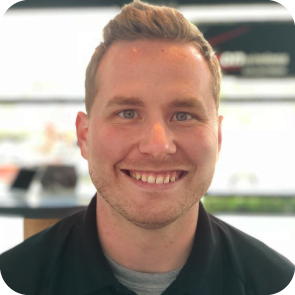 Tyler Stovall
Kirkland, WA
Tyler is a student at Northwest University where he is finishing an undergraduate degree in Education: Biology. An avid outdoor enthusiast, Tyler loves exploring trails (or making his own) while keeping an eye out for local birds to add to his classification portfolio.
He regularly teaches Apple skills and basics on topics ranging from iCloud to MacOS. Tyler can also show you some of his favorite iOS apps for exploring the great outdoors!
Book a class or workshop with Tyler >
---
Lee Sanchez
Colorado Springs, CO
Since 1990 Lee has been an avid fan of Apple. With his substantial knowledge, Lee loves teaching seniors how to use iOS devices and how they can make his students' lives easier. Being an accomplished keyboardist of 10 years, Lee loves playing music in his free time.
Book a class or workshop with Lee >
---